San Francisco Bankruptcy Lawyer
The City and County of San Francisco is the fourth most populous city in California and the 13th most populous city in the United States, with a 2007 estimated population of 799,183. It is the second most densely populated city in the country and is the financial, cultural, and transportation center of the larger San Francisco Bay Area, a region of more than 7 million people. The city is located at the tip of the San Francisco Peninsula, with the Pacific Ocean to the west, San Francisco Bay to the east, and the Golden Gate to the north.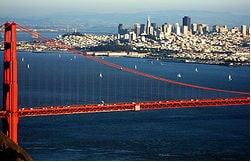 If you have run into financial difficulties and want to file for bankruptcy in the San Francisco Bay Area, you will need to get an experienced attorney . Rust, Armenis & Schwartz, A Professional Corporation are experienced San Francisco Bay Area Attorneys that can assist you in determining whether to file for a Chapter 7 or 13 bankruptcy or if bankruptcy is the right decision for you. Our firm headquarters are conveniently located at One Market Street at Spear Tower, across the street from the Ferry Building. Bay Area Rapid Transit Embarcadero station and S.F. MUNI underground stations are located outside the entrance to the building. Cable car and bus stops are also located within one block of the building. Many people believe that by filing for bankruptcy they will be affected for life. On the contrary, new federal laws surrounding bankruptcy have been established to allow each individual a new opportunity to start fresh without financial burden. If you do not have the money to pay for your utilities, creditors are harassing you or you or are facing cancellation of services, filing for bankruptcy can help prevent and in some case restore your services. Filing will also stop creditors from harassing you, foreclosures and repossessions. Once you file for bankruptcy you will reduce the mental and emotional stress and stop creditors from garnishing your wages as well as the hassles associated with debt collectors. As soon as you file for bankruptcy, the credit collection agencies and their related counterparts must cease harrassing you immediately or will quickly hear from us. Once you have filed for bankruptcy, this will give you a chance to start over and take control of your life with a better financial perspective. There are laws in place to protect you from your creditors. Choose an attorney who knows the laws and this will help you in the long run. To set up your free case evaluation, Email us at
[email protected]
or call us at
1-866-RAS-ATTY (1-866-727-2889)
.
San Francisco Office
244 Jackson Street Fourth Floor
San Francisco, California 94111
Telephone: 415.765.5910
Facsimile: 415.765.5914
Email:
[email protected]
Rust, Armenis & Schwartz,
A Professional Corporation

Complete This Form For A Free Consultation!
Email*:
Phone:
Please Contact Me By*:

Describe Your Request: