Sacramento Bankruptcy Lawyer
Sacramento is the capital of the state of California, and the county seat of Sacramento County. Located along the Sacramento River and just south of the American River's confluence in California's expansive Central Valley, it is the seventh-largest city in California. With a 2007 estimated population of 460,242, it is also California's 2nd largest inland city. Sacramento is the core cultural and economic center of its four-county metropolitan area (El Dorado, Placer, Sacramento, and Yolo counties) with a combined population of 2,136,604.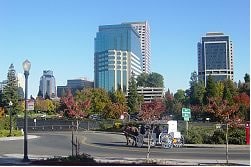 If you have run into financial difficulties and want to file for bankruptcy in the Sacramento area you will need to get an experienced attorney. Rust, Armenis & Schwartz, A Professional Corporation are experienced attorneys that can assist you in determining whether to file for a Chapter 7 or 13 bankruptcy or if bankruptcy is the right decision for you. Our firm has conference facilities located in Sacramento at 8880 Cal Center Drive Suite 400 Sacramento, California 95826. The center is located one block west of Howe Avenue, a major north-south thoroughfare connecting Highway 50 and I-80. While avoiding the hassles of city traffic and congestion, the center is just minutes from the legal, financial and political communities of downtown Sacramento. Once you file for bankruptcy you will reduce the mental and emotional stress and stop creditors from garnishing your wages as well as the hassles associated with debt collectors. As soon as you file for bankruptcy, the credit collection agencies and their related counterparts must cease harassing you immediately or will quickly hear from us. As soon as you have filed for bankruptcy in the Sacramento area, you will have a chance to start over and take control of your life with a better financial perspective. There are laws in place to protect you. Choose an attorney who knows the laws and this will help you in the long run. To set up your free case evaluation, Email us at mail@rustarmenis.com or call us at
1-866-RAS-ATTY (1-866-727-2889)
.
Sacramento Office 8880 Cal Center Drive Suite 400
Sacramento, California 95826
Telephone: 916.972.8300
Facsimile: 415.765.5914
Email: mail@rustarmenis.com

Rust, Armenis & Schwartz,
A Professional Corporation

Complete This Form For A Free Consultation!
Email*:
Phone:
Please Contact Me By*:

Describe Your Request: